Sunday Morning Children's Church 10:30 a.m.
Jesus said, "Let the little children come unto Me…" and that is what we desire here at Calvary Chapel. We have a service designed for the kids at their level with a time of worship and singing followed by teaching that is age appropriate and based on God's Word.
All children nursery thru 5th grade involved with Children's Church on Sunday morning must be checked-in at the Children's Church entrance. If you are new, we have volunteers to help with check-in. Once your children are checked-in, you'll receive a label with a specific number. Please keep the label as you will need this when picking up your children after service.
Currently our Toddlers and Pre-K/Kindergarten classes are using the Gospel Light curriculum. Our 1st thru 5th graders are learning essential discipleship skills with the DiscipleTown curriculum.
---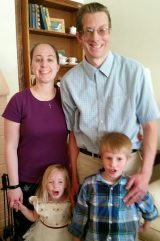 Greetings to you in the Lord from Cameron and Heather Jones! We are the children's ministry leaders here at Calvary Chapel Grand Junction. Heather and I met in 2008 while serving in ministry together. We realized God was calling us to be more than just friends and were married in 2010. God has blessed us with two children Sam and Vera. We both have served in various ministries, including children's ministry, since college. In 2016 God gave us the opportunity to become children's ministry leaders. We desire to teach kids the living Word of God, encourage them to grow in their relationship with Jesus and share their faith. And at the same time, help parents in watering the seed in their children's hearts. "And you shall teach them diligently to your children, and shall talk of them when you sit in your house, when you walk by the way, when you lie down, and when you rise up." Deuteronomy 6:6-7.
---